Released On 12th Sep 2023
Roller-Shutter Door Maintenance: Understanding Your Legal Commitments and Legislative Guidelines
Our guide to roller-door maintenance legislation will help you understand your legal obligation to prevent doors from posing a risk to employees or members of the public.
If you have roller-shutter doors, high-speed doors or any other kind of automated door or barrier at your business premises, you'll appreciate how crucial they are for security, access control, aiding temperature regulation etc. However, their importance goes beyond just their physical function – as a business manager you have various legal responsibilities that must not be overlooked.
Key Legislation and Regulations
While this guide aims to be useful, you should make sure that you are familiar with the governing bodies and documents that apply in this area, and seek professional legal guidance if needed. Key resources include:
The Health and Safety Executive (HSE).
The Workplace (Health, Safety and Welfare) Regulations 1992 and its provisions concerning roller-shutter doors.
The Door & Hardware Federation (DHF), a not-for-profit industry association which liaises with compliance bodies such as the Health & Safety Executive and Trading Standards, as well as fire safety organisation.
Are you legally required to service roller-shutter doors?
Business owners and managers, as well as home-owners, have a duty of care to maintain a roller-shutter door on their premises to a reasonable standard so it doesn't pose a risk of loss or injury. You might be sued for damages in a civil court by an injured party if you cannot show that you took all reasonable steps to reduce risks of loss or injury.
If you are an employer or self-employed, a landlord, maintenance contractor, managing agent or facilities manager, you are additionally liable to criminal prosecution under health and safety law if there are unsafe doors on your premises.
A regular maintenance and servicing programme of any roller-door or high-speed door is the only responsible way to fulfil these legal obligations.
Regular Maintenance and Inspection
As we mention on our Servicing & Repairs page, regular servicing is a cost-effective way to catch problems early, saving you time and money in the long term and vastly extending the life of your doors. But how often should roller-doors be serviced?
Service frequency is dependent on how much usage a door gets. The following service schedule is recommended:
| Frequency of use | Recommended service schedule |
| --- | --- |
| 1 to 2 operations per day | Service annually |
| Up to 15 operations per day | 6 months |
| Up to 30 operations per day | 4 months |
| Up to 45 operations per day | 3 months |
| Over 45 operations per day | 2 months |
It's important that a servicing schedule is adhered to in order to avoid stress on component parts. Inadequate or infrequent servicing can lead to premature wear or system failure. In addition, a qualified engineer will be able to spot areas for concern that a lay person might not detect, including mechanical faults or wear and tear. They can then make the appropriate recommendations to maintain doors in a safe and proper working condition that complies with legislation.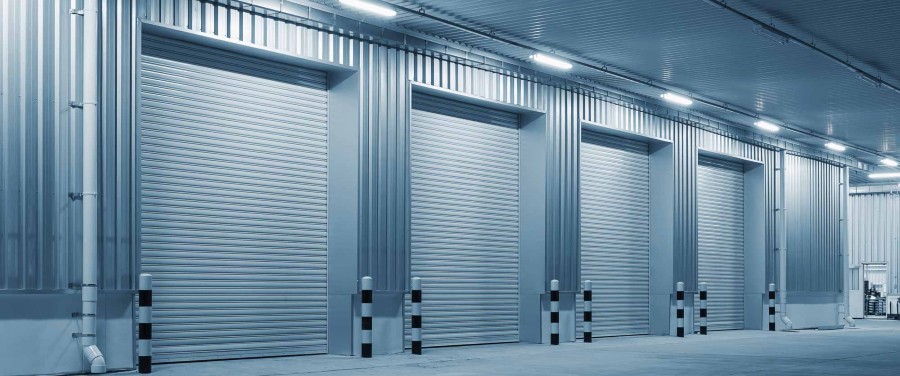 Practical considerations
If your organisation uses roller-doors, the following practical considerations should be part of your planning in order to comply with your legal obligations. A professional roller-door service company such as Easy-Roll could be an essential component of your safety policy, and a valuable source of advice.
Risk Assessments
Establish the documentation or records which need to be kept for each maintenance or inspection session
Determine how frequently risk assessments should be performed for the roller-shutter doors on your premises
Identify specific hazards that should be identified and addressed during these assessments
Decide who will perform these assessments and what templates, checklists or guidelines they need for conducting them satisfactorily?
Training of Employees
Employees should be adequately trained on the safe operation and emergency procedures associated with the roller-shutter doors on your premises
Refresher training needs to be scheduled at appropriate intervals
Signage
Consider what safety signs or warning labels are needed on or near the doors
Reporting and Record Keeping
Understand what incidents involving the roller-shutter doors need to be reported to authorities, and what policies your organisation will put in place to ensure this is done when required
Understand what records must be retained regarding the roller-shutter doors' installation, maintenance, repairs, and inspections, and how long should they be kept
Modifications, Alterations, and Part Standards
If modifications or alterations are made to the roller-shutter doors, understand whether there any notification or certification requirements to ensure they still comply with safety standards
To ensure full compliance with all your legal obligations relating to roller-shutter maintenance, it's always a good idea for the business owner to work closely with a health and safety consultant or specialist, especially one familiar with industrial doors, such as Easy-Roll. We can provide guidance tailored to the specific set-up, operation, and local requirements applicable to your business.
Please call for expert advise and details of all our roller-door service and maintenance plans.